Archive for the ' Opinionated Posts ' Category

Plenty of MLB players fall under the radar, but who are the most underrated players in the whole league?

Written by Jake Elman

When you talk about underrated, it's exactly what it sounds like – underrated means something is either not properly rated or not rated high enough, which, depending on your own interpretation, might mean the same thing. Meals are underrated at a certain restaurant, musicians are underrated because they're not 'mainstream enough', and, of course, we use underrated when talking about athletes.

It seems like every day, someone's always talking about a player being underrated. "I think *so and so* is truly underrated by the media," a broadcaster might say, while a fantasy guru could suggest, "I feel, even though he's underrated, this guy might be a great pick up this week." Major League Baseball has plenty of players that would say that they're underrated, but who are the best players that fall under that trope?

Well, that's what we're here to find out today. I've compiled a list of players who are among the most underrated players in the league. There was no special requirements or anything — though, you won't see too many guys with big-time contracts on this list — aside from the player being, well, underrated. Without further waiting, let's dive right into this.

C: Yan Gomes, Cleveland Indians

When you talk about a player having a breakout 2014 season, Cleveland's catcher, Yan Gomes, has to come into the discussion. Gomes, a former tenth-round pick of the Blue Jays from the University of Tennessee, hit .278/.313/.472 with 21 long bombs and 74 home runs for Cleveland a season ago; Gomes' FanGraphs-calculated WAR of 8.2 trailed only San Francisco's Buster Posey (10.5), Miluwakee's Jonathan Lucroy (9.8), Pittsburgh's Russell Martin (9.4) and St. Louis' Yadier Molina (8.6) among catchers. Though the Indians finished out of the playoffs yet again, they look to have solved the franchise's catching problems that have plagued them since the 2009 trade of Victor Martinez.

 Gomes earns a spot on this list because I feel like the Indians underrated him just a bit, giving him a six year contract extention that's only worth 23 million dollars. I may not be the best at math, but even I know that's underrating a good player at a position where good players are rare to come by. I don't want to make it sound like Gomes is the best catcher in the game, though, because there's a lot of things he needs to improve on. Gomes' patience at the plate, for example is awful, as he nearly had more home runs (21) than walks (24). When you think of players that had more home runs than walks in a single season, dreaded power hitters like Juan Gonzalez, Sammy Sosa, and Andre Dawson come to mind, not a 26 year old catcher on a third place team. But, that doesn't mean that Gomes shouldn't be on our list, and I look forward to seeing what he can do in the future.

1B: Edwin Encarnacion, Toronto Blue Jays

Is it possible to be an underrated player when you've hit 112 home runs the past three seasons and made two All-Star Game appearances? Though you may think the answer is definitely no, Toronto Blue Jays first baseman Edwin Encarnacion may disagree with you on that, as even after three straight seasons of at least 34 home runs and 98 RBI, the Dominican slugger is still flying well under the radar. How could that be? How is it possible that a player like Encarnacion can be on an all-underrated list when he puts up such fantastic numbers?

Well, part of the reason may have to do with the fact that Encarnacion plays in Toronto. Now, that's nothing against Canada, but it's moreso that the casual American baseball fan really doesn't know players in their own country, let alone players in Canada. If Encarnacion played for an American team (a team in America, not just an AL team), maybe there's a chance more people would recognize him, but I digress him. Anyways, Encarnacion has quietly become one of the game's best sluggers, recording a WAR of 12.8 and keeping his K-BB ratio extremely close (228 walks to 238 strikeouts), an amazing feat in a time of hitters constantly recording 190+ strikeouts. Hopefully, Encarnacion can start becoming a household name sooner rather than later, because him and his parrot sure are fun to watch.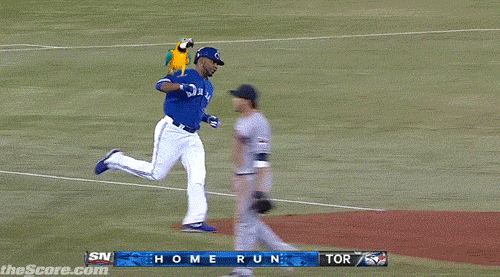 2B: Ben Zobrist, Oakland Athletics
I don't know what it is about the utility guys who have become their team's handyman, but there's just something about them that's always made me partial to those guys. Whether it was the before-my-time Luis Sojo on the New York Yankees or the more recent Miguel Cairo, I've just always really liked the guys that can play anywhere, give you a hit in a pinch, and are great for the team on and off the field. These days, the crown of 'best super utility guy' goes to Oakland Athletics utility man Ben Zobrist, a two-time American League All-Star with the Rays who has played everywhere from second base to outfield to even the hot corner.
It may seem silly to call the 'best super utility guy' underrated, but I think it's more of Zobrist being under-appreciated than flat out underrated. Only once since the 2009 season began has Zobrist had a WAR less than 4.8, and he's been durable too, with 2014 being the first season since 2008 that the former sixth round pick didn't play in at least 150 games…he played in 146. If Zobrist doesn't appear on a list about the most underrated MLB players, then the person who made the list is doing it wrong.
3B: Todd Fraizer, Cincinnati Reds
What is there to say about the Todd Father that hasn't already been said? Not only does he hit for pop (the 29 year old third baseman had a career high 29 bombs last year), but Fraizer, originally from Toms River, New Jersey, has quietly become one of the NL Central's most dangerous hitters since becoming a full-time player in 2012. Though Fraizer only hit .234/.314/.407 in 2013, the Jersey-born slugger rebounded with a .273/.336/.459 statline in 2014 and was awarded with his first All-Star Game appearance.
So, why does he get a spot on the All-MLB Underrated Team for 2015? Well, Fraizer is still making a name for himself, and last year's Home Run Derby — where he made it to the Final Round before losing to then-Oakland left fielder Yoenis Cespedes — was the first time that many baseball fans were properly introduced to the Todd Father. With a big season in 2015, Fraizer might be able to cement himself as a top five third baseman in the game, and I'm sure the Reds would be thrilled if the Todd Father could put up numbers akin to last year's breakout campaign.
SS: Erick Aybar, Los Angeles Angels
For an organization that's tried to pride themselves on consistency, am I the only one surprised that the Los Angeles Angels only have two players remaining from the 2010 season? I'm sure that you immediately thought of the team's All-Star starting pitcher Jered Weaver as one of the two players, but the fact that shortstop Erick Aybar, brother of former Rays utility man Willy Aybar, is the other player was an interesting finding on my part. Aybar, who turned 31 in January, has quietly grown into one of the American League's better shortstops, hitting .280/41/313 while recording a WAR of 3.9 or more three times in the past four years.
Like others on this list, what makes Aybar underrated is that he plays on a team full of big-name stars; Mike Trout, Albert Pujols, Jered Weaver, Josh Hamilton, C.J. Wilson, and so forth are the guys you think of when the Angels are brought up, not a shortstop who has only hit above .280 only once since the 2010 season began. Yet, Aybar might realistically be the third-most important player to the Angels' success, behind only Trout and Pujols. What I really like about Aybar is his ability to hit for the extra base — Aybar's averaged 32 doubles and six triples the past four seasons — and he was rewarded with his first All-Star appearance a year ago. With the way that Aybar plays, however, I definitely can see more All-Star Games in his future.
OF: Brett Gardner, New York Yankees
To say that the New York Yankees have struggled the past two seasons would be an understatement, as the 26-time World Series champions have missed the playoffs for consecutive years; this is the first time that's occurred, of course, since the drought from 1982-1993 (with 1994 not counting due to the playoff strike). Even with the team making both big-time acquisitions and small, the Yankees have found themselves home for October baseball the past couple of years due to a mix of injuries, inconsistency, and overall lack of production from big name players. With that said, however, part of why the Yankees have even found themselves with a winning record in both 2013 and 2014 is due to veteran left fielder Brett Gardner, a former third-round pick with a penchant for clutch hits and stolen bases.
As a teammate of Derek Jeter, Alex Rodriguez, CC Sabathia, Jorge Posada, Robinson Cano, Mariano Rivera, Andy Pettite, Jacoby Ellsbury, and so on, Brett Gardner has never been the big-time attraction or even the team's most popular player. What he has been, however, is a durable outfielder (2012 withstanding) that puts it all on the field and will beat you with his bat, his speed, his glove, or even just his ability to get a rally going. Not counting 2012, Gardner has racked up four straight seasons with a WAR of 4.0 or more, including a 7.3 WAR back in 2010 for the Bronx Bombers. He may not be the sexiest player in terms of name recognition, but without Gardner, the Yankees might be one of the league's worst teams rather than one that's middle of the pack.
OF: Dexter Fowler, Chicago Cubs
Speaking of outfielders who will beat you with their speed, Chicago's Dexter Fowler has been a menace on the basepaths since making his debut with the Colorado Rockies in 2008. Fowler's average stolen base numbers of 19 steals to 9 times caught stealing may not seem impressive, but Fowler averages 24 doubles and 10 triples a season, and that number jumps up to 30 and 12 per every 162 games. When you look at every player who is on this list, Fowler's inclusion might be the most questionable, as he's not a powerful home run hitter like Todd Fraizer or Edwin Encarnacion, or a super utility man like Ben Zobrist, but I don't know if just the basic statistics can do him justice.
Out of every player in the big leagues, Fowler led the majors with a .451 on-base-percentage when there was no one out, and he also got on base 40 percent of the time when there was no one else on base; from your leadoff guy, and someone with speed, there's not much else that you can really ask for. Fowler, who is entering his first year with the Chicago Cubs after a year in Houston, also has excellent plate discipline and has really become one of baseball's best leadoff men. That's the type of guy you want on your team, and that's why Fowler lands a spot on this list.
OF: Lorenzo Cain, Kansas City Royals
First things first, here's the mandatory video featuring Cain's defense.
Alright, mandatory video featuring Cain's defense out of the way, let's talk about the Royals' budding outfielder. Cain, a former seventeenth-round pick of the Milwaukee Brewers in 2004, broke out onto the scene last season with a .301/5/53 statline that also saw him record 28 stolen bases on the year. That's all good and well, as is Cain's 5.0 WAR, but what really put this kid on the map was his defense. Line drive hit to center that's falling fast? Cain will dive for it. High fly ball to right-center field that looks like it's gone? Cain jumps and its in his glove.
Putting Cain on this list is a bit of a cop out, because he's already starting to become less of an underrated player solely from the Royals' miracle 2014 season that saw them make the World Series. Once people start seeing more and more of his crazy catches and gritty play on the field, Cain's popularity is likely going to skyrocket among baseball fans, both hardcore and casual. For the time being, though, Cain is an underrated player that, not unlike Gardner or Aybar, is instrumental to his team's success and deserves a spot on our list.
SP: Jose Quintana, Chicago White Sox
In all honesty, I really have to hand it to Robin Ventura and the Chicago White Sox. Even though the team title of lefty ace was seamlessly transferred in-house from Mark Buehrle to Chris Sale following the 2011 season, Chicago was able to find a solid, middle-of-the-rotation starter not through trade or through a big contract, but off the waiver wire; former New York Yankees farmhand Jose Quintana, a lefty pitcher who had yet to make it past A level ball, intrigued the White Sox scouting department so much that the team signed him and immediately placed him in AA with the Binghamton Barons. After a decent first month in the minors, Quintana would reach the big leagues in May of that season, and the rest is history. Despite subpar numbers on paper (namely the 24-24 overall record), Quintana has posted a 3.50 ERA with a 423-150 K-BB ratio in 536 innings. Not bad for a guy who had never made it past high A ball with the Yankees, right?
I know White Sox manager Robin Ventura hasn't had the best three seasons leading his former ball club — something I mentioned when previewing the American League Central division last month — but the find, and later success, of Quintana has to rank among the better things he's done. We're talking about a lefty pitcher that has excellent control and has been a savior for the White Sox, constantly keeping them in ball games and shutting down the opposition (opponents have hit .258 against him). The White Sox are in prime position to contend for the playoffs this year, and their stud lefty Quintana is a major reason why.
Manager: Buck Showalter, Baltimore Orioles
If this article was being written in March 2014 rather than March 2015, San Francisco's Bruce Bochy would definitely have taken the managerial spot here. But, Bochy and the San Francisco Giants won a World Series in October, so I'm going with a different person here, and that's Baltimore's Buck Showalter. Since taking over the job in the summer of 2010 for interim manager Juan Samuel, Showalter has not only helped transform the Orioles into a perennial contender, but he's also beginning to make a case as one of the best managers of this generation.
Rant Sports' Brad Berreman talked about this in October, saying, "A lack of identification and long-term success with one franchise hurts Showalter in terms of outside recognition as one of the best managers of the past 20-25 years. But 2014 is his fourth full season as the Orioles' manager, and barring something unforeseen he'll be back next season and, at this point, he can probably have the job as long as he wants." Showalter has helped change the chemistry and environment in Baltimore to one of winning and hard work, two things that were almost never seen in Charm City a decade ago. Even though the Orioles might not be a playoff team this season, you know that they'll give one hundred and ten percent as long as Buck is their manager.
Who do you think are some of the league's more underrated players? Make sure to tweet me at @JakeElman to chime in on the conversation.