Results tagged ' NFL '
It's no secret that baseball isn't the most popular sport among young people, but how much of that has to do with youth baseball?
Written by Jake Elman
Mid-May, at least in the tri-state area of New York, New Jersey, and Connecticut, is baseball season. It's a time where not only are the Major League teams all in action, but Little League is starting up, high school ball is going strong, and kids are putting on their gloves and bats trying to be the next Bryce Harper, Clayton Kershaw, or Alex Rodriguez…I'd hope a clean version, that is.
But, driving through the local towns, the baseball fields seem near abandoned, with the attention going to soccer fields and basketball courts. Even on a warm weeknight or a sunny Saturday, the ball fields don't have the same level of excitement and hype as they once did…sadly. Along with a lack of interest in Major League Baseball goes a lack of interest in youth baseball, but this isn't something that's happened just suddenly.
In 2011, the Wall Street Journal reported that, "From 2000 to 2009, [then] the latest year for which figures are available, the number of kids aged 7 to 17 playing baseball fell 24%, according to the National Sporting Goods Association, an industry trade group. Despite growing concerns about the long-term effects of concussions, participation in youth tackle football has soared 21% over the same time span, while ice hockey jumped 38%. The Sporting Goods Manufacturing Association, another industry trade group, said baseball participation fell 12.7% for the overall population."
A 38 percent jump in ice hockey? Damn, maybe those kids thought they'd be able to save the NHL from being locked out…ok, bad joke. Anyways, that was a big jump last decade, but, as Pirates outfielder Andrew McCutchen pointed out in a February piece for The Player's Tribune, much of that may have to do with money.
"When you're a kid from a low-income family who has talent, how do you get recognized? Now, you have to pay thousands of dollars for the chance to be noticed in showcase tournaments in big cities. My parents loved me, but they had to work hard to put food on the table, and there wasn't much left over. They didn't have the option of skipping a shift to take me to a tournament over the weekend. The hard choices started when I was very young. 'Do you want that video game system for Christmas, or do you want a new baseball bat?"'
McCutchen, an All-Star with the Pittsburgh Pirates, then goes on to add, "A lot of talented kids my age probably picked the Playstation, and that was it. It was over for them. I always chose the new bat or glove. But all the scraping and saving in the world wasn't going to be enough for my family to send me an hour north to Lakeland every weekend to play against the best competition. That's the challenge for families today. It's not about the $100 bat. It's about the $100-a-night motel room and the $30 gas money and the $300 tournament fee. There's a huge financing gap to get a child to that next level where they might be seen."
All excellent points by McCutchen, but I think that the next thing he talks about might be the most important part of the entire piece:
"Even despite all the breaks I got with baseball, I probably wouldn't be a Major League player right now if I didn't tear my ACL when I was 15. I thought I was going to play college football. Why? Economics," McCutchen, who turns 29 in October, admitted. "If I could've been a wide receiver for a D-I school, I would have chosen that path because of the promise of a full scholarship. The University of Florida offered me a baseball scholarship, but it only covered 70 percent of the tuition. My family simply couldn't afford the other 30 percent. The fact is, no matter how good you are, you're not getting a full ride in baseball."
For McCutchen, the lack of full ride for baseball ended up not entirely mattering, as he ended up going eleventh overall in the 2005 MLB Draft and would sign with the Pittsburgh Pirates rather than attend UF, but the points he brings up are right on the money.
I've always thought, and it's a point that McCutchen brings up in that piece for The Player's Tribune, that athletes who have the choice between football/basketball or baseball will end up going with basketball or football because if they're good enough, there's a chance for an immediate impact money wise. If you're a .255 hitting, low-income, shortstop with a great glove that is also a point guard with good ball-handling skills that might be able to play D1 basketball and go pro after two years, which are you picking?
Remember, many minor league baseball players will average a salary less than the federal poverty level of 11,490 dollars for a single person, and the average NBA salary, at least for the 2014-15 season, was 507,336 dollars, so let's think for a second. You're an 18 year old that comes from a single parent, low income, household, and you have the opportunity to either go off and play collegiate baseball and then get drafted into the MLB, or play collegiate basketball and then get drafted into the NBA.
Now, you've always had more of a soft side for baseball — the smell of fresh cut grass, the unique style of each field — but basketball will likely lead to more money in the short term. Which are you picking? Some of you may say, "I'd pick the sport I prefer more," but if you come from a low-income area and you have the chance to possibly provide for your parents and siblings by going another route, which way would you go? The more rewarding one, right?
Plus, with baseball, you have to buy gloves, bat, socks, cleats, uniforms, and so forth, but with a sport like football, all you really need are gloves, cleats, and minor things like girdles; it's not like you need to buy a helmet or knee pads, just pay for the league itself. Baseball is an expensive sport, which McCutchen continues to talk about in the TPT piece.
Then, you have to factor in things like training camps, academies, and those indoor facilities that will let you go in and hit off a tee, throw a bullpen, etc. Those may not sound too expensive, but if you come from a low-income area and you have to choose between that or paying for your car, what are you paying for? In an area like Westchester County, NY, which has seen several big-league players like Giants second baseman Joe Panik and Nationals outfielder Darin Mastroianni make the big leagues, money isn't too much of an issue because Westchester is the fifth-richest county in America, but what about an inner city? What about a poor area?
Now, that's not to say that youth baseball has fully died. As Forbes contributor Maury Brown reported in a piece published last August, "According to the head offices of Little League, approximately 2 million kids play youth baseball, and that number has held steady for the last 5 years." That's in comparison with Pop Warner football, which is seeing a continuous regression of kids playing due to concerns about concussions and brain trauma.
That 2 million staying steady over the years, by the way, is interesting because as recently as 1996, there were 2.5 million kids playing Little League Baseball. But, just because youth baseball has yet to fully die doesn't mean that it's not struggling. Look at inner cities, like Chicago and Detroit, and try to spot places where kids are actually playing baseball.
There have been plenty of programs over the years that are trying to get kids from the inner cities back into baseball, like Reviving Baseball in Inner Cities (RBI) and MLB's Urban Youth Academy, but they're not working. It's not even just the financial aspect in those cities, where some kids are dirt poor to the point where they don't even have baseballs to use, but think about the other sports popular in areas like that: football, basketball, and soccer, all of which might be more fun and more exciting to a younger child.
That's not to say that everyone in the inner cities wants to see baseball die, though, In the music video for his 2009 hit "Beautiful" off of Relapse, Detroit rapper Eminem uses the city he calls home as a means of expressing the difficulties we have to fight through. One part of the video, and honestly my favorite part, has Eminem, real name Marshall Mathers and a dedicated Tiger fan, walking through the remnants of Tiger Stadium.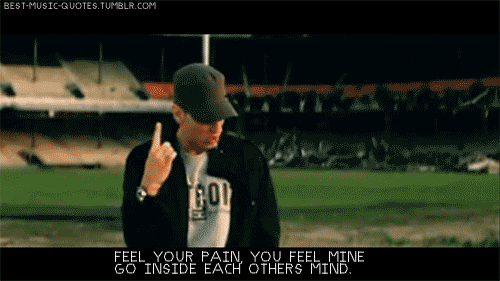 The reason why I bring up a song that was released six years ago this month is that as the camera (if you don't want to listen to the whole song because of, well, Eminem, just skip to 3:03 and go from there) shows a construction crew knocking down the Tigers' home from 1912-1999, the camera then pans to a youth baseball team with looks of sadness on their faces. One player, at the 3:26 mark, is even caught wiping his eyes, like he's trying to erase tears from seeing the stadium being destroyed.
I've always interpreted that part as the kids crying not only because a piece of Detroit is being destroyed, but because it symbolizes their baseball dreams being crushed. Of course, the kids weren't going to be playing ball at Tiger Stadium, that's not the point; what Mathers and the video's director, Anthony Mandler (a directing genius with an extensive videography) are showing by blending the ballplayers and Tiger Stadium is that inner city baseball is ending up in the same place as the classic stadiums that once hosted big league teams — being slowly destroyed.
The thing is, the video for 'Beautiful' was filmed in June of 2009 and released in July of that same year, and the message is still relevant, even six years later. The one real bright spot we've had for inner city baseball over the past few years has been Mo'ne Davis and the Jackie Robinson West team winning the U.S. title at the 2014 Little League World Series, and they had their title stripped earlier this year because they used players who were "outside the geographical area."
So, is youth baseball dead? No, not yet, but is it dying? Yes, without a doubt, and I'm honestly not entirely sure that's an easy fix. Even if kids start getting back into baseball and want to be the next Bryce Harper or Clayton Kershaw the way I wanted to be the next Derek Jeter, baseball is an expensive sport to play and is likely going to turn a lot of people off when they realize basketball or football might not only be cheaper, but also have more financial incentive in the long-term if they're that good.
Plus, youth baseball is kind of boring unless you're one of the best players. If you have the option of sitting in right field doing absolutely nothing and watch the pitcher stare down the catcher, then look back at the base, then stare down the catcher again, then scratch his cup, then stare down the catcher again, or playing soccer on defense and getting to move around all game, which are you playing? The same goes for football, where even being an offensive lineman can be more fun than playing baseball (something I admit to as a former tackle).
McCutchen did tackle that idea in the aforementioned article, but he thinks that part of it may have to do with teenage players from Latin America being signed to contracts worth 40,000 or 50,000 dollars. Now, that may be the case of why a player who has the choice between playing minor league baseball for a few years or going to college for two years and then going to the NBA might choose basketball, but for kids? I don't necessarily know if a twelve year old kid is really thinking about big contacts at that point.
Unlike basketball or football, I think baseball is a sport where you really have to make it your one 'craft', so to speak, if you're serious about it. Now, that's not to say that you shouldn't focus entirely on basketball if you want to play in the NBA and might have a serious chance at it, but think about it like this: you can be a wide receiver and a shooting guard in high school and be fine, but what if you want to be a pitcher as well?
Between long toss, bullpen sessions, throwing on flat ground, sessions at the gym involving squatting and working on the core to increase velcoity, as well as hitting sessions for those who might also hit for their team, there's not really much else time to do basketball. Even with football or something like tennis, kids who play for year-round ball teams really have to focus on baseball, not a side sport.
So, how do we go about fixing the 'decline' of youth baseball? Well…I think that if Rob Manfred can continue to make baseball more popular and exciting in the eyes of the youth, then perhaps more kids will start playing. I think we're at a point where we may need something…drastic…to see a return of high interest in youth baseball, but I'm not sure right now.
Do you think there's a chance that youth baseball can really be 'saved' and revived? Make sure to chime in on the conversation by tweeting me at @JakeElman